Tech Stack
Laravel | Nuxt.js | MySQL | Flutter | Redis | SendGrid | AWS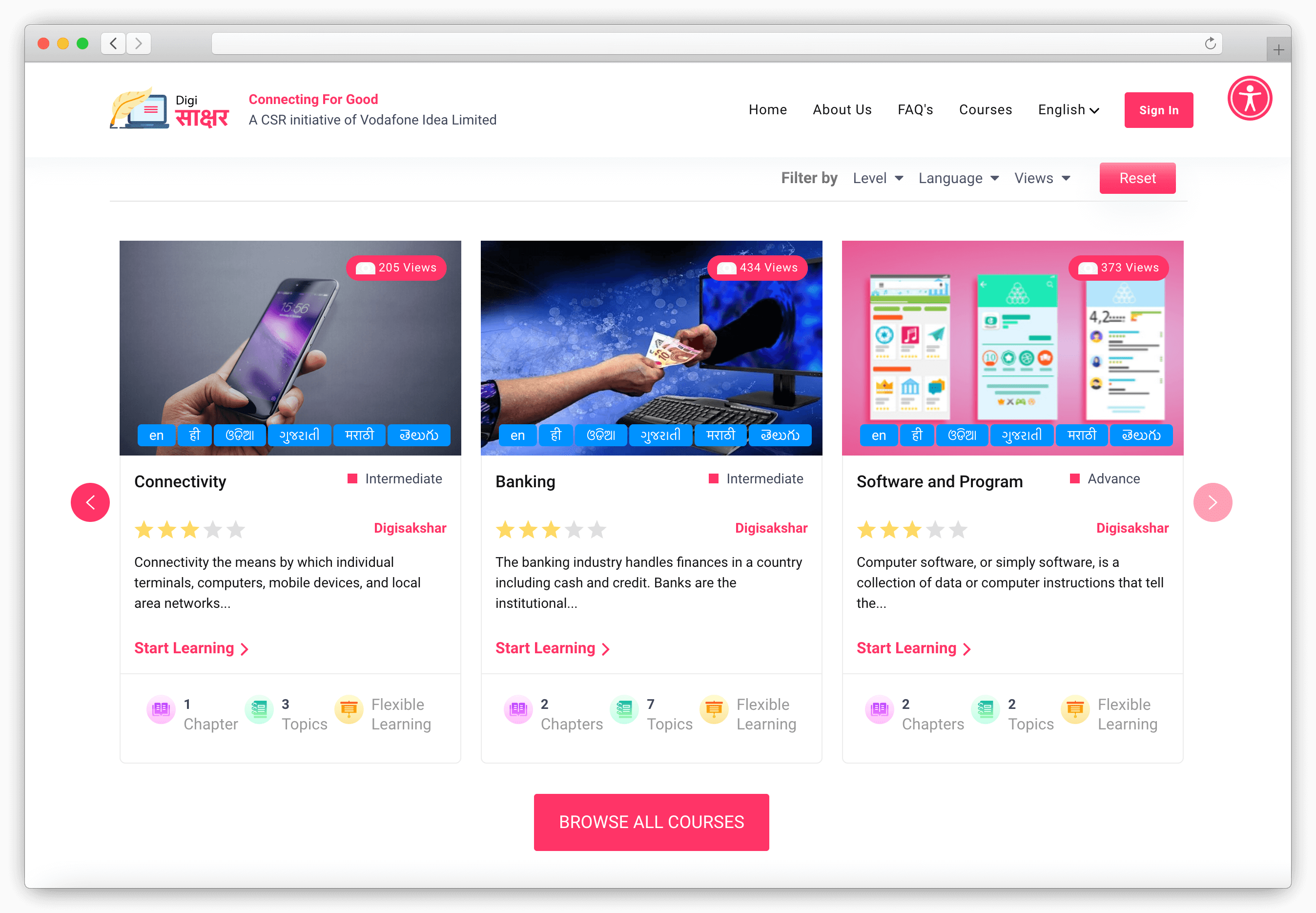 E-learning or today what is known as 'Digital Literacy' is flourishing in India. In support of digital literacy, Vodafone India foundation under their 'Connecting For Good' program has launched 'DigiSakshar.org' - a free online education platform in collaboration with CGI and NASSCOM foundations.
DigiSakshar is a web and mobile-based user-friendly online learning platform that offers free and universal access to a plethora of courses across various subject areas. As the name (Digi 'Sakshar') suggests – the aim is to make life-skill education accessible to rural India via efficient Ed Tech platforms and help India become self-reliant through digital literacy.
Digital Literacy: Need in India
As per statistics, out of the total Indian population of 1400 million+ people, more than 900 million people are from a rural background and approximately more than 30% of the population lives below the poverty line. Though there has been a concentrated push towards deeper internet penetration because of the usage of smartphones in rural India, however, it is revealed that almost more than 50% of the rural population is not actively using the internet for educational purposes due to low digital literacy.

India is one of the most populous countries in the world and has the world's largest customer base. However, according to research, it is found that due to limited adoption of technology, the tier 4 and 5 regions of India are confined, unexplored and almost remain outside the ambit of basic education.
This is where Ed Tech start-ups, companies and initiatives have stepped in to provide digital literacy in India.
Solution
DigiSakshar is a mobile-based online self-learning portal developed by Bluepin, one of India's leading technology development companies. Bluepin is known for its quality and innovative Ed Tech products with seamless user experiences. The learning management apps are built by Blupin using secured and scalable AWS cloud technologies.
The application has the following learning management features:
Easy to use structured content in terms of basic, intermediate and advanced topics, courses and chapters. Learning materials and videos are provided on life skills like - computer operations, handling mobile phones, digital payments, handling the internet safely, finding jobs and livelihood opportunities, etc.

The courses are designed in English, Hindi and also in various vernacular languages like - Oriya, Marathi and Kannada.

The learning platform supports all kinds of formats - Video, Audio, HTML and PDFs

It offers valid certifications to the students for completing a particular course
.
The app is structured in a way that students can easily navigate through the specific pages and sub-domains in no time
.
The educational platform also offers student progress trackers, analytics, an organized, easy-to- understand dashboard, personalized and customized content structure according to the need of the students
With the help of above mentioned features the platform has been able to contribute 360- degree educational benefits and solutions to a huge segment of the Indian population.
Technical Solution
The technical solution for this project involved utilizing Laravel as the backend API, Nuxt.js/Vue.js for the front end, and Flutter for the mobile and tablet applications. The design of the solution was based on a microservice-based architecture, ensuring modular and scalable development. The solution was hosted on Amazon Web Services (AWS) to provide reliable and secure hosting capabilities. The tablet app was designed to support complete offline mode, allowing for uninterrupted access to the app's functionality. Additionally, the solution was created with multi-tenancy in mind while ensuring the security of the data through appropriate measures.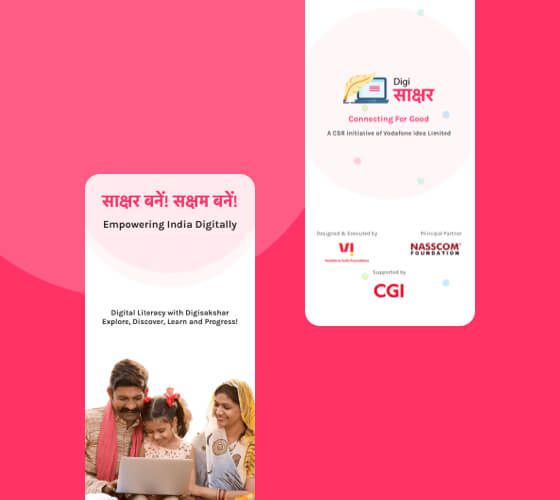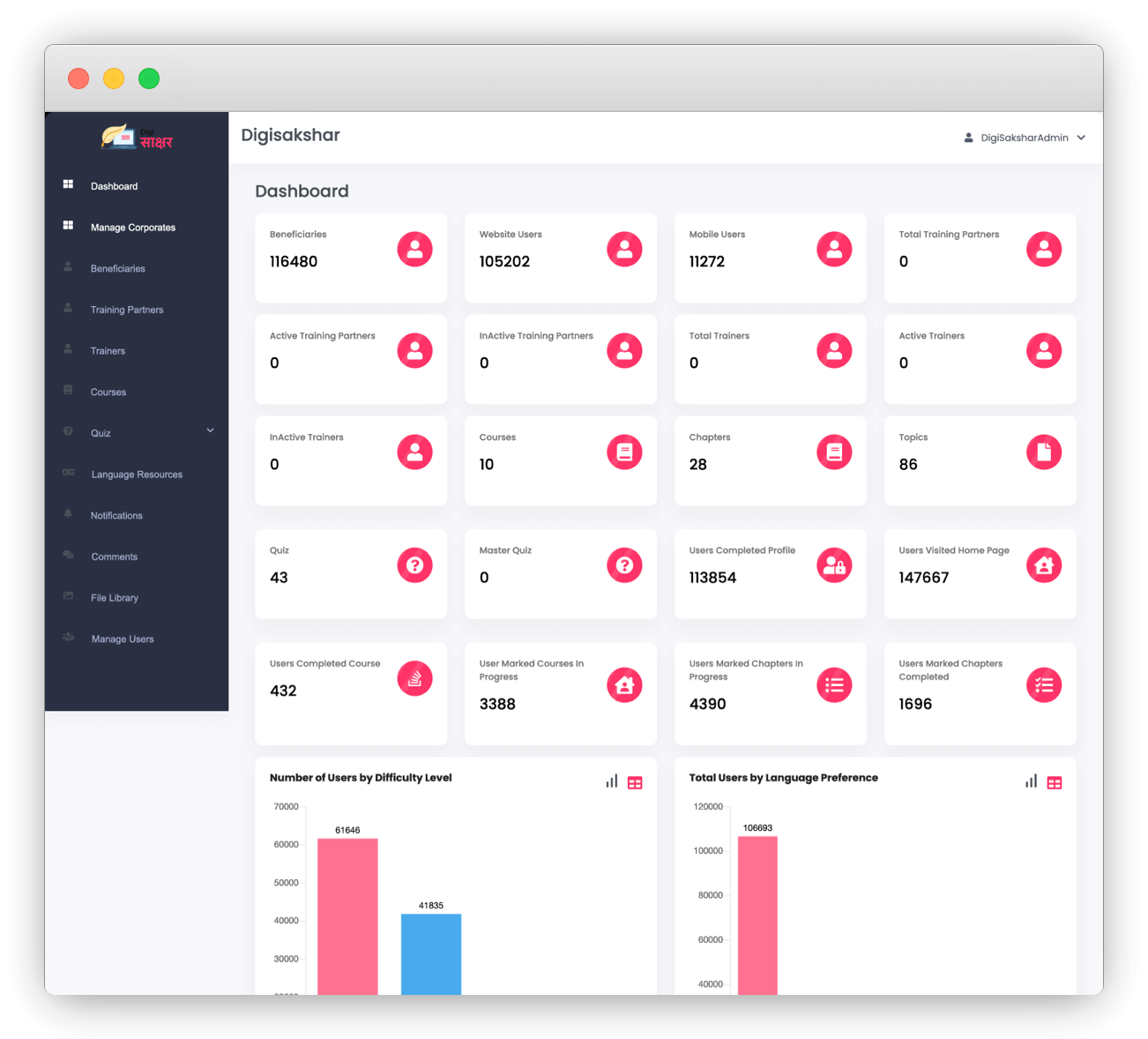 Result
According to the National Survey Of India reports (2021), the literacy rate of India comes to around 77.7%, which suggests that the rate has increased to 4% as compared to the last census data.
With the help of this robust and handy online learning platform, currently, more than 80 K students are using the portal to learn digital literacy, financial literacy, and entrepreneurship to name a few.
Today a huge number of students are customizing the content and doing self-assessments through organized question banks available in the application itself - thus, enabling themselves to be digitally self-reliant across all sectors!