National AI Portal - INDIAai
Tech Stack
Laravel | Nuxt.js | MySQL | ElasticSearch | Redis | SendGrid | AWS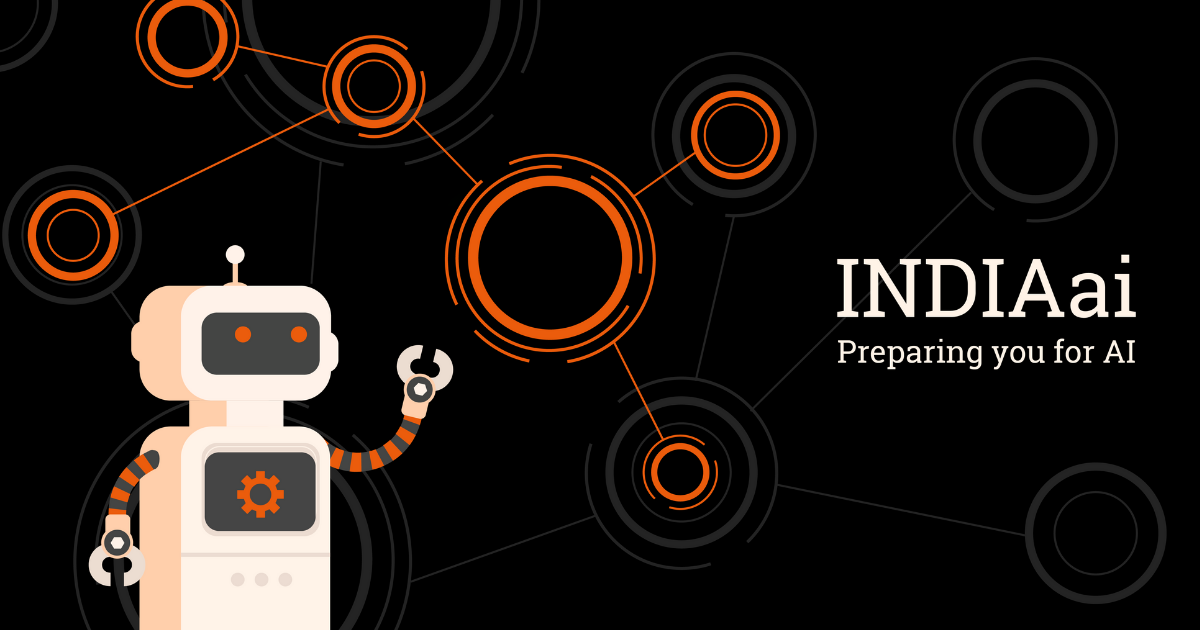 The Government of India through MEITY (Ministry of Electronics and Information Technology) plans to launch a National AI Portal. This was announced by the Hon'ble Finance Minister Shri Piyush Goyal in the budget speech on February 1, 2019. NASSCOM is the primary non-Government partner in this project and will be responsible for all design and implementation aspects of the same. The portal aims to be a one-stop shop for all things AI for Industry, Government, startups and entrepreneurs. The National AI Portal will be set up by India and for India and will aim to create awareness, provide information, showcase National AI developments, engage the viewer and interact with the visitor. The vision is to accelerate the growth and spread of the Indian AI eco-system by informing and educating the public on the far-reaching impact of AI on the Global economy. By doing so, the goal is to encourage greater participation by all stakeholders and a greater embrace of the potential of AI for India.
About NASSCOM
NASSCOM is a premier not-for-profit association working closely with corporates and Governments for the last 30 years. As the Indian economy has grown, NASSCOM has designed and developed various initiatives to support Indian businesses in their national and international journey. NASSCOM has a number of initiatives that are critical for both businesses and the Government:
NASSCOM works closely with the IT/ITes industry for its growth, development and policy initiatives.
NASSCOM works with city and state Governments to develop the local business, social and city infrastructure to grow businesses in each city.
Global Trade and Development to promote international linkages of Indian start-ups and businesses.
NASSCOM has been a long-term partner with the Government in conceptualizing and implementing programs and initiatives. Our experience and track record in developing new initiatives and programs (listed below) have been critical for both businesses and Government.
For more information, please visit http://www.nasscom.in
Challenge
There is general consensus amongst Governments and Businesses across the world that Artificial Intelligence (AI) is a technology that will have far-reaching effects on the world. Just like the internet and mobile revolution of the 1990s and 2000s, AI is going to impact every industry and individual over the coming years. It has the potential to transform whole industries just like the internet has done for others. Along with Industry, AI has much potential in the social sector, and potentially benefits millions of people at the bottom of the pyramid.
Almost all major corporates and Governments in the world are thinking about how to utilize AI to their benefit, how to limit its negative uses, and what policies to put together to move the technology forward. In India, while there is some work being done in academia and business, we are behind many other countries such as China, US, and UK. According to a PwC study, by 2030, China and USA will be leading the AI world, while India will be lagging behind.
One of the important ingredients for the rapid progress of an industry or technology is a strong ecosystem – the interplay of businesses, corporates, startups, Governments, entrepreneurs, employees, suppliers, and buyers. The rapid expansion of the ecosystem has helped in the success of the IT industry, telecom industry and startup sector in India. Unfortunately, the AI ecosystem, in India is nascent and dispersed. There is no binding factor of the ecosystem – in the USA the tech majors of Google, Microsoft, Amazon, and IBM are playing that role, and in China the Government along with Baidu, Alibaba and Tencent are playing that role. The benefit of a binding factor in an ecosystem is that there is an active flow of new and existing information that helps stakeholders interact and organically grow.
NASSCOM aims to create an Indian AI ecosystem through the National AI Portal that brings together all the stakeholders in attaining international competence in the domain.
AI Portal Goals
The goal of the portal is to be a major contributor to the nascent AI ecosystem in India, and the nature of this project requires the active involvement of thought leaders and key stakeholders in the ecosystem. To that end, the portal aims to:
Create awareness – news, articles, analysis, and events.
Collate and disseminate information – research reports, data, and company profiles.
Showcase – case studies from corporates, pilots, and startup ideas.
Engage the visitor – with videos, webinars, and training materials.
Interact – between visitors, stakeholders, online forums, and connect forums.
The AI portal is expected to provide up-to-date information for a global audience, provide policy inputs, help research in India, highlight the importance of AI for social good, and above all, unify the AI ecosystem in India by bringing together all stakeholders and help to redirect their focus towards thinking about AI for India and promote a culture of AI in India.
The audience for the AI portal will be Global. The target will be :
Current and potential entrepreneurs
Senior leadership teams of corporates and MSMEs
Users, influencers and ecosystem players of AI
Government leaders
Policymakers and thought leaders
Solution
The modern web publishing platform is designed to be scalable and efficient, utilizing microservice-based architecture and utilizing various AWS technologies, and frameworks such as Nuxt.js, Laravel, MySQL, ElasticSearch, Redis, S3, and CloudFront.
Technical Architecture
Nuxt.js was used as the front-end framework for building a universal web application.
Laravel was used as the back-end framework for building a robust API to handle data and business logic.
MySQL was used as the primary database for storing user data, content, and other relevant information.
ElasticSearch was used for fast and efficient search capabilities.
Redis was used as a caching layer to improve the performance of the application.
AWS S3 was used for storing and serving static assets such as images and videos.
CloudFront was used as a content delivery network to distribute content globally and improve the loading time for users.
Microservices
The platform was divided into multiple microservices to improve scalability and maintainability. Each service was responsible for specific functionality such as user management, content management, search, and analytics.
Deployment
The application was deployed on AWS EC2 instances using Docker containers to ensure consistency and ease of management.
AWS Elastic Beanstalk was used for automated deployment and scaling.
AWS RDS was used for managing the MySQL database instances.
AWS Elasticsearch Service was used for managing the Elasticsearch cluster.
Result
The microservice-based architecture allowed for easy scalability and maintenance of the platform.
The use of various AWS technologies improved the performance and reliability of the application.
The use of Nuxt.js and Laravel allowed for efficient and rapid development of the platform.
As of now, the portal sends 80,000 emails in a day
75000+ registered users
Current Enhancements
Machine Learning-Based Recommendation System
AI-based chatbot
Adding support for multiple languages
Integrating with other third-party tools and services for analytics and marketing.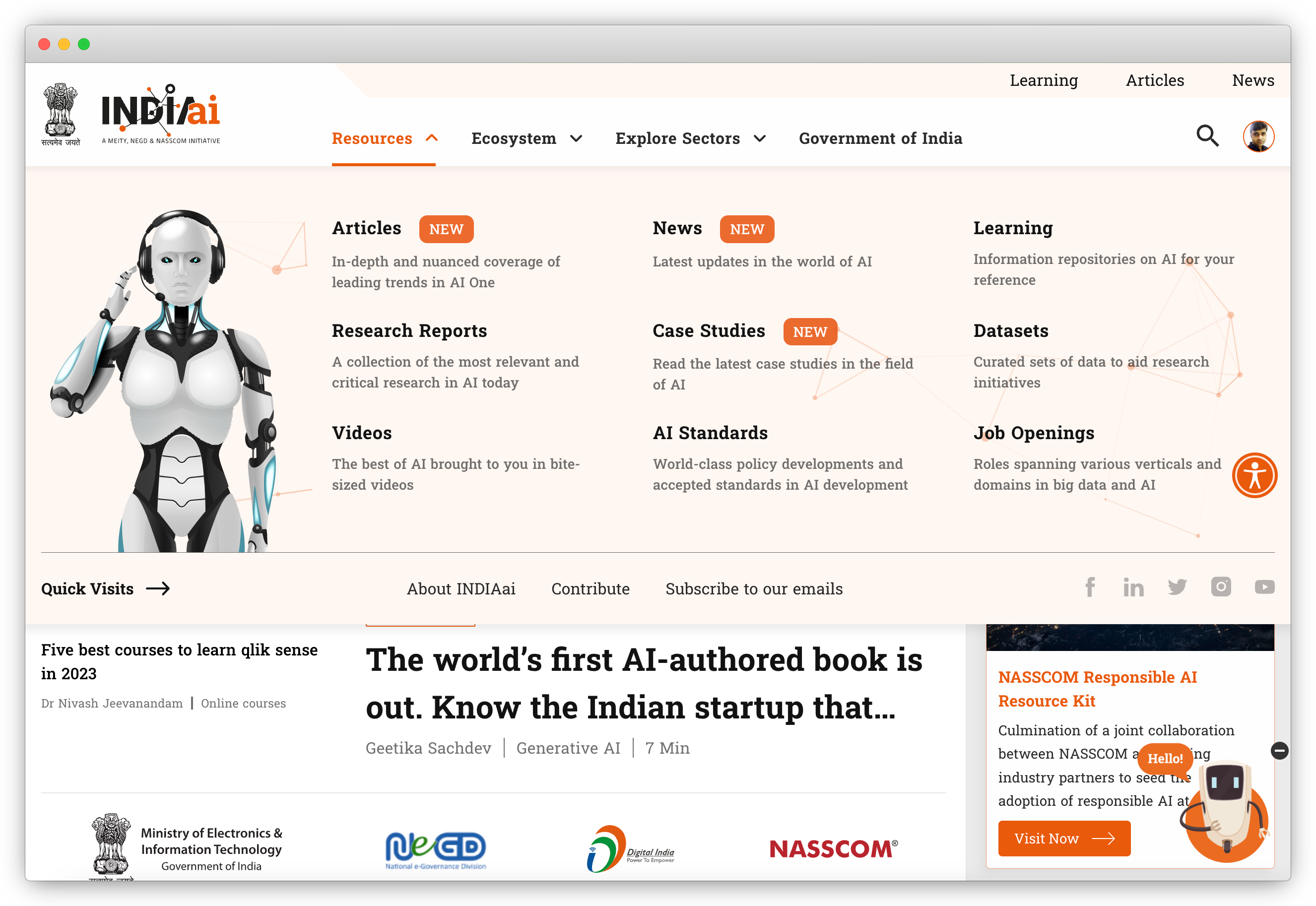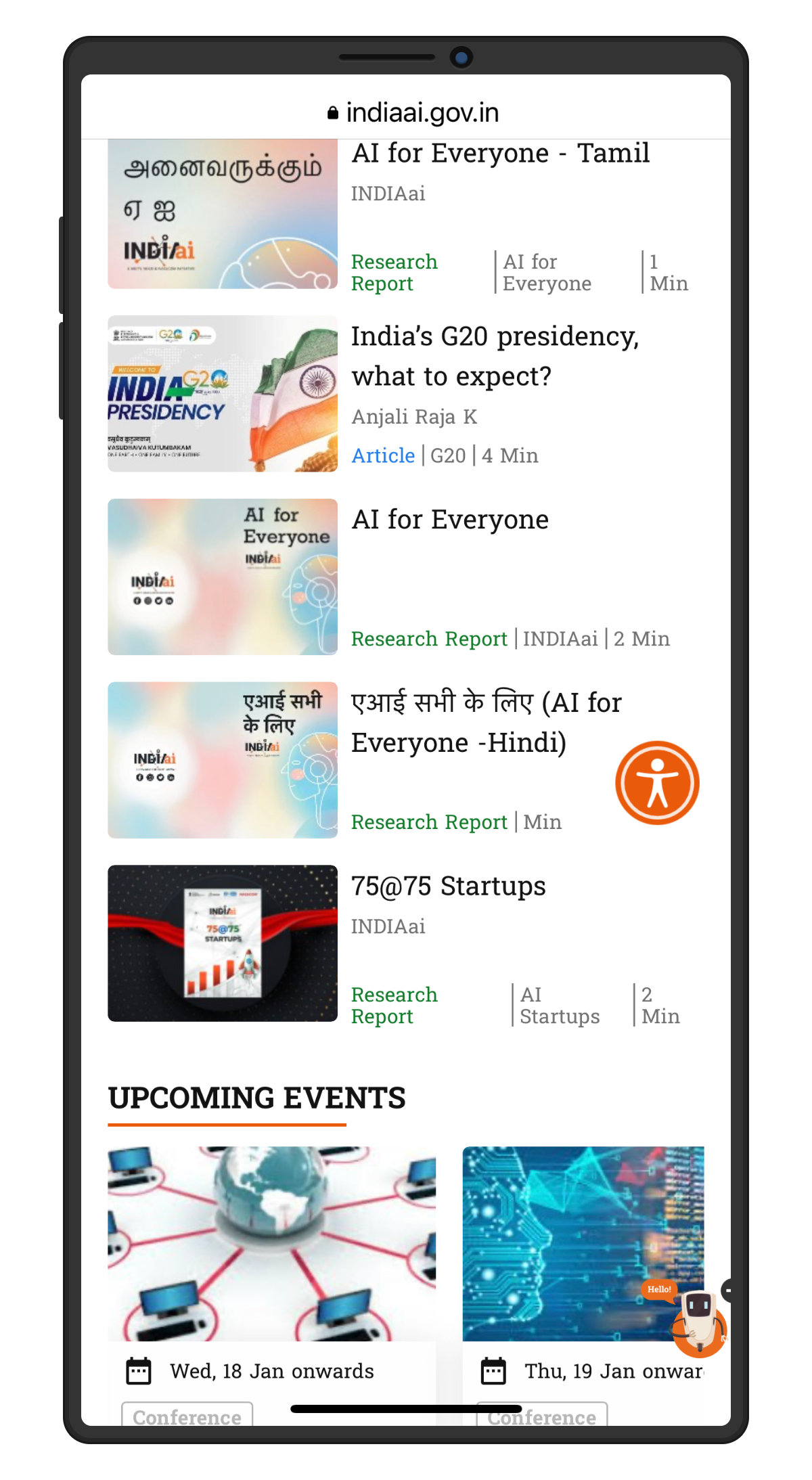 Result
INDIAai is a web portal launched by the Government of India in May 2022 for artificial intelligence-related developments in India. It is known as the National AI Portal of India, which was jointly started by the Ministry of Electronics and Information Technology (MeitY), the National e-Governance Division (NeGD) and the National Association of Software and Service Companies (NASSCOM) with support from the Department of School Education and Literacy (DoSE&L) and Ministry of Human Resource Development.
The portal was launched on May 30, 2020, by Ravi Shankar Prasad, the Union Minister for Electronics and IT, Law and Justice and Communications, on the first anniversary of the second tenure of Prime Minister Narendra Modi-led government. A national program for the youth, 'Responsible AI for Youth', was also launched on the same day.
As of 2022, the website was visited by more than 4.5 lakh users with 1.2 million page views. It has 1151 articles on artificial intelligence, 701 news stories, 98 reports, 95 case studies and 213 videos on its portal. It maintains a database on AI ecosystem of India featuring 121 government initiatives and 281 startups.[3] In May 2022, INDIAai released a book on AI basics titled AI for Everyone.
Visit Website: https://indiaai.gov.in